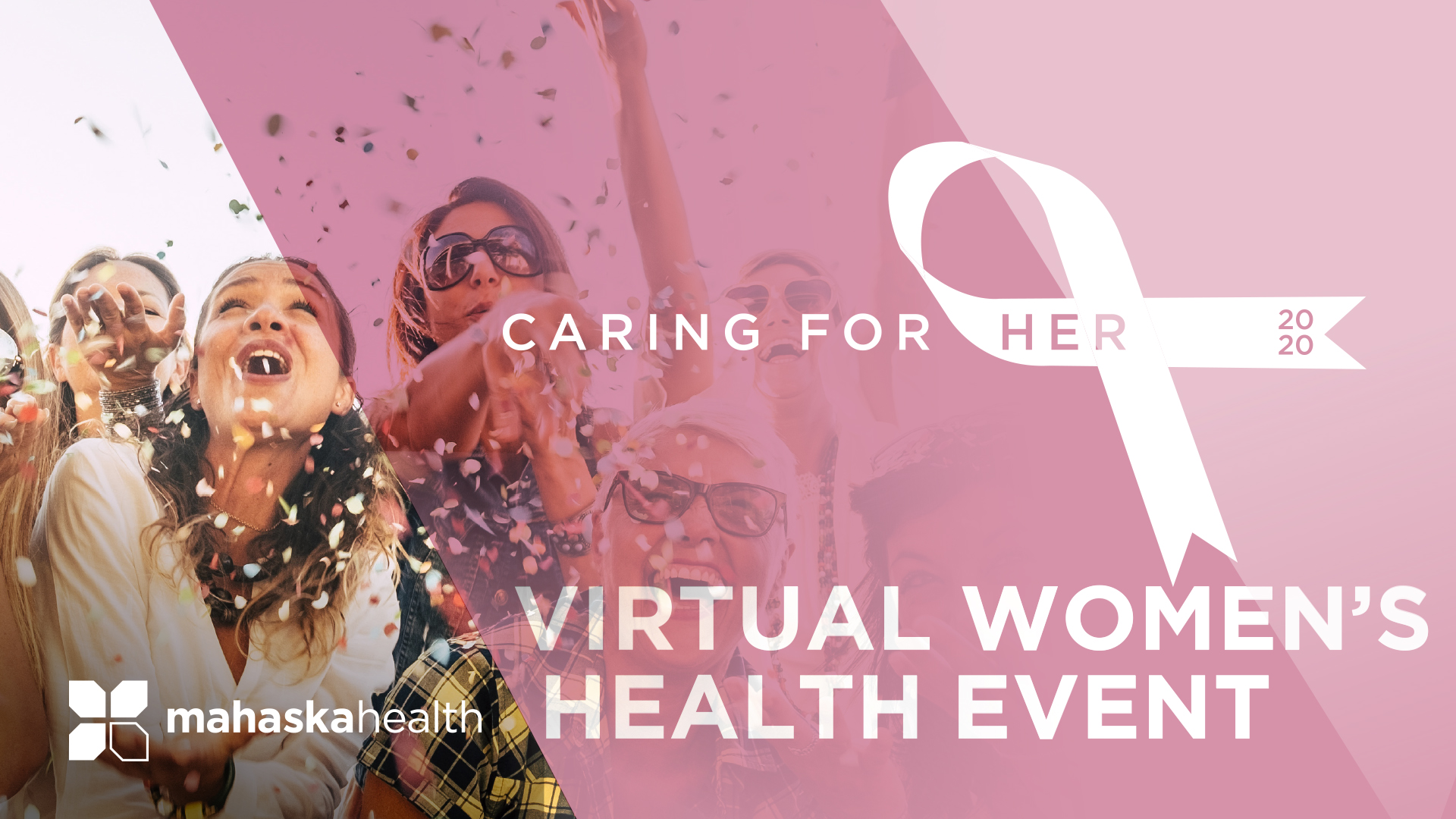 Mahaska Health is excited to host a Virtual Women's Health Event during the week of October 19th – 23rd! This year, we look forward to hearing from several providers who specialize in women's health services and are passionate about helping individuals better understand how to support their healthy lifestyle. 2020 has created many opportunities for us to change our normal, but simultaneously reminded us of the importance of caring for ourselves and others.
The Women's Health Event 2020's theme is: Caring for Her. We encourage you to invite your closest friends, moms, and daughters to attend this virtual event! Each morning and afternoon during the week of October 19th – 23rd, you can tune into the Mahaska Health Facebook page or the Mahaska Health website to find a video specializing in a specific women's health related topic. At the end of the week, MCG will stream the entire event on their TV channel, making it even easier for you to watch right from home! You can view the topics that will be discussed below:
Healthy Living (Part 1): Eating Well and Heart Disease
Healthy Living (Part 2): Blood Pressure Education
What It's Like to Have a Mammogram
Pelvic Floor, Bladder Control, Lymphedema, and Physical Therapy
Research and Recent Trends
A Message about Surgical Services
Birthing Center Tour
Aging Well
Breast Cancer Awareness
Virtual Breast Cancer Awareness Walk
A large component to this event is to raise awareness for those who have battled or are battling breast cancer. This year, our annual Breast Cancer Awareness Walk will be virtual, too! On October 19th, you will see hundreds of pink flags in the Oskaloosa City Square, recognizing the number of women who are diagnosed with breast cancer in Iowa each year. During the week, you'll have an opportunity to do your own virtual walk in support of those individuals. At the end of the week, you can check back here to log your miles and time from the virtual walk. If you log your miles and time walked, we'll enter you into a contest to win a prize from Mahaska Health!
Breast Cancer Awareness T-Shirts
This year, you can still buy a t-shirt to help support Breast Cancer Awareness! Shirts will cost $25, and the profits from the sale will go directly towards the Breast Cancer Awareness fund. You can purchase a shirt by clicking the button below:
You can register for this event by filling out the form below. We're excited to partner with you in raising awareness for Women's Health!
Virtual Women's Health Event 2020 Registration