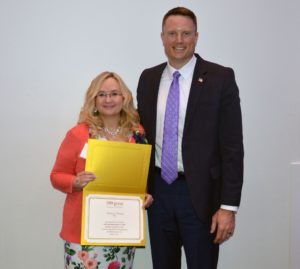 Mahaska Health Nurse Practitioner Kim Rutledge has been named one of the 2019 "100 Great Iowa Nurses."
Rutledge will be honored with other recipients at a special ceremony recognizing National Nurses Week on Sunday, May 5 in Des Moines. Nominees were selected based off their concern for humanity, contribution to the profession, leadership and mentoring.
Rutledge was nominated by friend, former colleague and mentee, Olivia Brinegar. "She has been a guiding light in my life. I, along with many others, have learned about professionalism, dedication, and so much more from her," said Brinegar
"Kim provides thorough, compassionate care for others without casting judgement," Brinegar continued. "As I study to become a nurse practitioner myself, I carry her positive example with me. I'm so fortunate to have had the opportunity to work with her."
Rutledge feels honored to be recognized and dedicates this award to her support team. "This award means so much to me, and I could not have done it without the people I work with every day," Rutledge said. "In my 23 years as a nurse, I've been fortunate to meet so many wonderful patients and families on a day-to-day basis."
Rutledge has been with Mahaska Health since 2011 and has practiced in the Walk-In Clinic for three years. This is the 11th consecutive year Mahaska Health has represented a nurse in the "100 Great Iowa Nurses" listing.
"Kim is a wonderful asset to Mahaska Health," said Mahaska Health CEO Kevin DeRonde. "Over the last 11 years we have been fortunate to consistently have Mahaska Health caregivers recognized for the great work they provide to our patients and families. Kim joins many other wonderful examples and we are proud to have her on our team."