Welcome to Mahaska Health
At Mahaska Health we are committed to exceptional customer service and health improvement, linking the science of medicine with the humanity of compassionate care.
If a hospital stay or visit is in your future, we will do everything possible to make your experience a pleasant one. When arriving at the hospital for a procedure or lab work, make your first stop the admissions desk at door #4. Staff will ensure you are registered, as well as direct you to the location of your appointment.
Visitors
At Mahaska Health, we recognize the healing power of friends and family. We encourage visitors of the patient's choice to be present (following current visitor guidelines and restrictions) for emotional support and comfort while receiving services at our facilities.
Visiting Mahaska Health during COVID-19
To ensure the health and safety of our patients and team members, we have implemented temporary visitor restrictions.
To protect our patients, visitors and staff, Mahaska Health has become a latex-safe environment and will no longer allow latex balloons in our facility, due to latex allergy concerns. We have no restrictions on mylar (foil) balloons.
Mahaska Health has taken this measure for safety concerns. Studies show that roughly six percent of the general population and up to 15 percent of healthcare workers are allergic to latex, with the higher rate among medical personnel due to longer periods of contact with natural rubber. The more often a person is exposed to latex, the greater his or her chance of developing an allergy.
The serious allergic reaction people suffer from latex allergies can be rapid in onset and is similar to those cause by foods such as peanuts. In extreme cases, anaphylactic shock, which can occur within minutes of an exposure, can lead to death.
If you have any questions or concerns, please contact 641.672.3127.
Dining Options
During your visit, there are multiple dining options available to you and your family.
Guest Room Service Tray – All items on the Room Service Dining Menu are available as a guest tray at a total cost of $6. Simply follow the instructions in the Room Service Dining Menu in the patient room and enjoy. Please Note Room Service Hours: 6:00 AM – 6:00 PM
Mahaska Health Café – located on Level 1 by taking elevator A or the stairs down to the Connector from Inpatient Services. Once on the Connector, turn left and follow the hallway until you reach the Mahaska Health Café. The Café is open from 8:00 am to 3:00 pm Monday through Friday, and 11:30 am to 1:00 pm Saturday and Sunday. They offer grab and go fruit and sandwiches, as well as specialty coffee and fountain pop. Lunch is served from 11:30 am to 1:15 pm. The Café accepts cash, check or debit/credit cards for payment.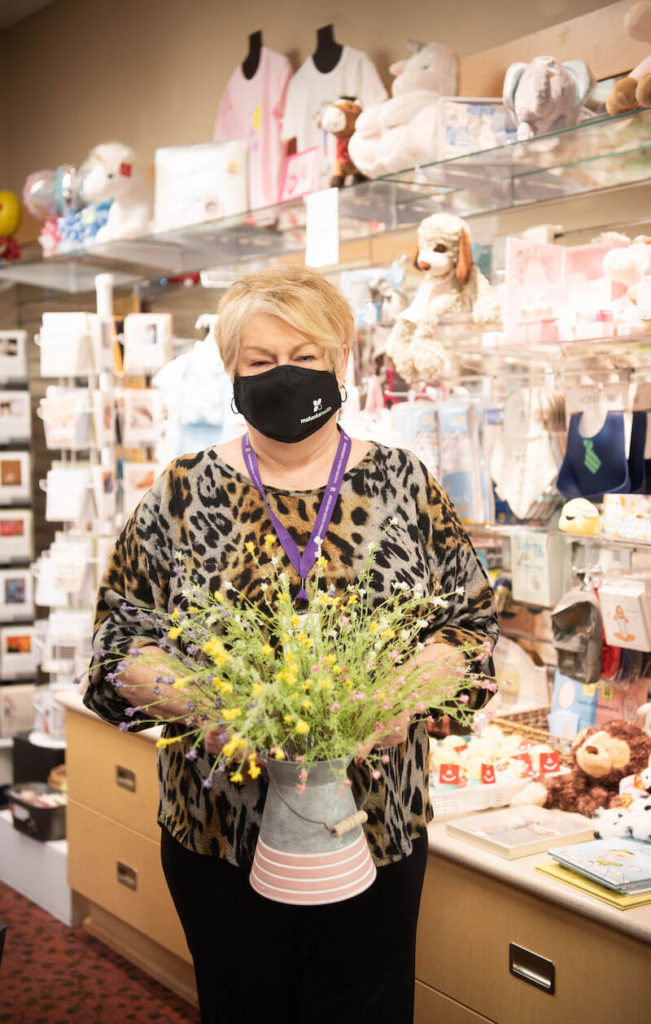 Whispering Tree Gifts
Whispering Tree Gifts is located on Lower Level, entrance #4. Hours of operation are:
Tuesday, Wednesday, and Thursday, 10:00 AM – 2:00 PM, and closed on holidays.
Whispering Tree Gifts offers a wide variety of unique gifts and accessories from quality name brands and is staffed by volunteers of the Mahaska Health Auxiliary and is a 501(c)3 organization supporting the healthcare mission of Mahaska Health. All proceeds from items sold go directly back to Mahaska Health to pay for non-budgeted patient care items.
Some of the items found at Whispering Tree Gifts include:
Baby Gifts (stuffed animals, hats, frames, Woombies)
Jewelry and Accessories
Abdallah and Baker Candy
Seasonal Gifts
Greeting Cards
Personal Amenities