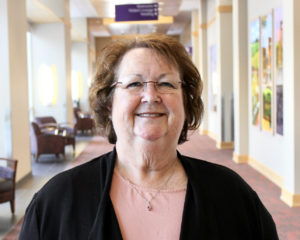 MAHASKA COUNTY – Mahaska Health is pleased to welcome Gayle Johnson, ARNP to the team as a primary care provider. Gayle has been worked as a nurse in Grinnell, Iowa for the past 30 years and is excited for this opportunity to serve in a new capacity as a nurse practitioner. While at Grinnell Regional Medical Center, Gayle gained experience as a charge nurse in the medical surgical unit, clinic manager at satellite primary care clinic in New Sharon, and eventually served as clinical advisor for the medical surgical unit, intensive care unit, emergency department, and obstetrics.
Gayle's motivation and love for patients led her to become a nursing supervisor, and after 5 years in a family practice clinic, she decided that she wanted to provide a new level of care for her patients as a nurse practitioner, and this year graduated with her Master's Degree in Science of Nursing from Graceland University. Actively involved in healthcare initiatives, Gayle has taught trauma nursing classes and still volunteers as a member of the Montezuma Volunteer Fire Department and Ambulance Services. She is looking forward to using her years of experience to enhance the lives of her patients in Mahaska County and the surrounding area.
Excited to build strong patient-provider relationships, Gayle understands that each person comes from a unique background. "I love being able to meet my patients where they are at, and truly getting to know them and their story; that is how we can continue to provide quality care," shared Gayle. Amy Fernandez, Clinic Director at Mahaska Health added, "We are all very excited to have Gayle join our primary care team. She brings a wealth of diverse experience with her and is going to add a special level of care to our Mahaska Health community."
Gayle is now accepting new patients and would love to get to know you. Call 641-672-3360 to make an appointment today.