For many American families, the Fourth of July is the pinnacle of the summer season. Keep the fun going with these five easy tips to celebrate safely!
1. Beat the Heat
If your family plans to enjoy the holiday outdoors, don't forget to stay hydrated and stay cool!
July is typically one of the hottest summer months in Iowa, which can lead to health and safety risks like heat exhaustion and heat stroke.  To avoid these medical emergencies, it's important to know the warning signs, stay hydrated, and be sure to take breaks from the sun indoors or in the shade.
When it comes to staying hydrated, remember, all drinks are not created equal! Drinks like coffee, tea, soda, and alcohol can all have dehydrating effects on the body, so it's best to drink plenty of water throughout the day to stay hydrated.
Symptoms of heat exhaustion include: 
Sweating
Pale or clammy skin
Muscle cramps
Fatigue or weakness
Rapid heart rate
Nausea or vomiting
Dizziness, headache, or fainting
Uncontrolled heat exhaustion can evolve into a heat stroke.
Symptoms of a heat stroke include: 
High body temperature (above 103 degrees)
Nausea or vomiting
Flushed skin that is dry and hot to the touch (sweating has usually stopped)
Rapid breathing and heart rate
Dizziness, headache, confusion or altered mental status
Convulsions or unresponsiveness
To read more about heat exhaustion and stroke, click here.
2. Protect the Skin You're In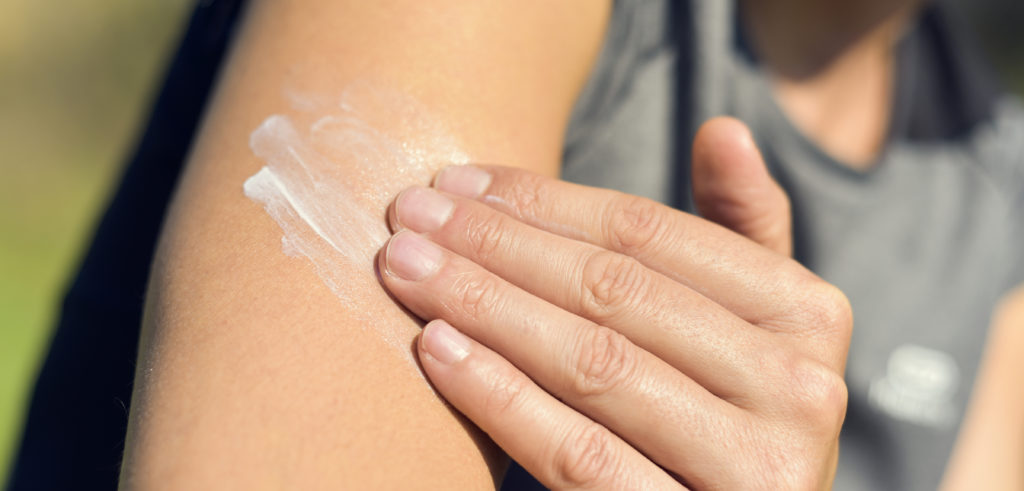 Protecting your skin is important year-round, especially in direct, summer sun. Exposure to the sun can cause sunburn, skin aging, eye damage, and skin cancer.
Reduce your risk of sunburn, early skin aging, and skin cancer by:
Limit the amount of time you spend in the sun, particularly between the hours of 10 AM and 2 PM, when the UV index is highest.
Protect skin with a broad spectrum sunscreen with an SPF of 15 or higher, and reapply regularly. Ask a healthcare professional before applying sunscreen to infants younger than 6 months.
Protect your eyes from sun damage by wearing sunglasses. Choosing the correct sunglasses can help protect your eyes from UV radiation and lower your risk for developing eye problems.
Here's what to look for:
Sunglasses with a UVA/UVB Rating of 100% give the most UV protection. Remember, dark tint does not equal UV protection!
Children should also wear sunglasses with UV protection, which many toy sunglasses do not offer.
For more information about protecting your skin and eyes from the sun, click here.
3. Enjoy Fireworks Safely
Fireworks are a Fourth of July tradition for many families. The National Safety Council advises that everyone enjoy fireworks at public displays, and not use fireworks at home. Each year, fireworks lead to thousands of injuries, fires, and deaths.
If consumer fireworks are legal to buy and use where you live, it's important to follow safety tips like these from the National Safety Council.
Sparkler Safety
Sparklers are fun, but can be dangerous if not supervised closely. For young children, consider safer alternatives like glow sticks, confetti poppers, or colored streamers.
4. Grill Responsibly
It wouldn't be the Fourth without something on the grill! Be sure to clean your grill prior to using, check for leaks, and make sure it's set up in a safe location.
Other tips to remember include:
Don't leave grills unattended while they're on.
Don't turn the gas on while the lid is closed.
Never grill indoors.
Don't over-fill your grill with food.
For more information on grilling safely, click here.
5. Enjoy the Water Safely
There's nothing better than a trip to the lake on a hot day. If you're celebrating the holiday on the water, remember Iowa State Law requires life jackets on all watercrafts from motor boats and jet skis, to kayaks, canoes, and paddleboards.
For more information on boating laws, safety, education, and registration, visit www.IowaDNR.gov.
Happy Fourth of July!