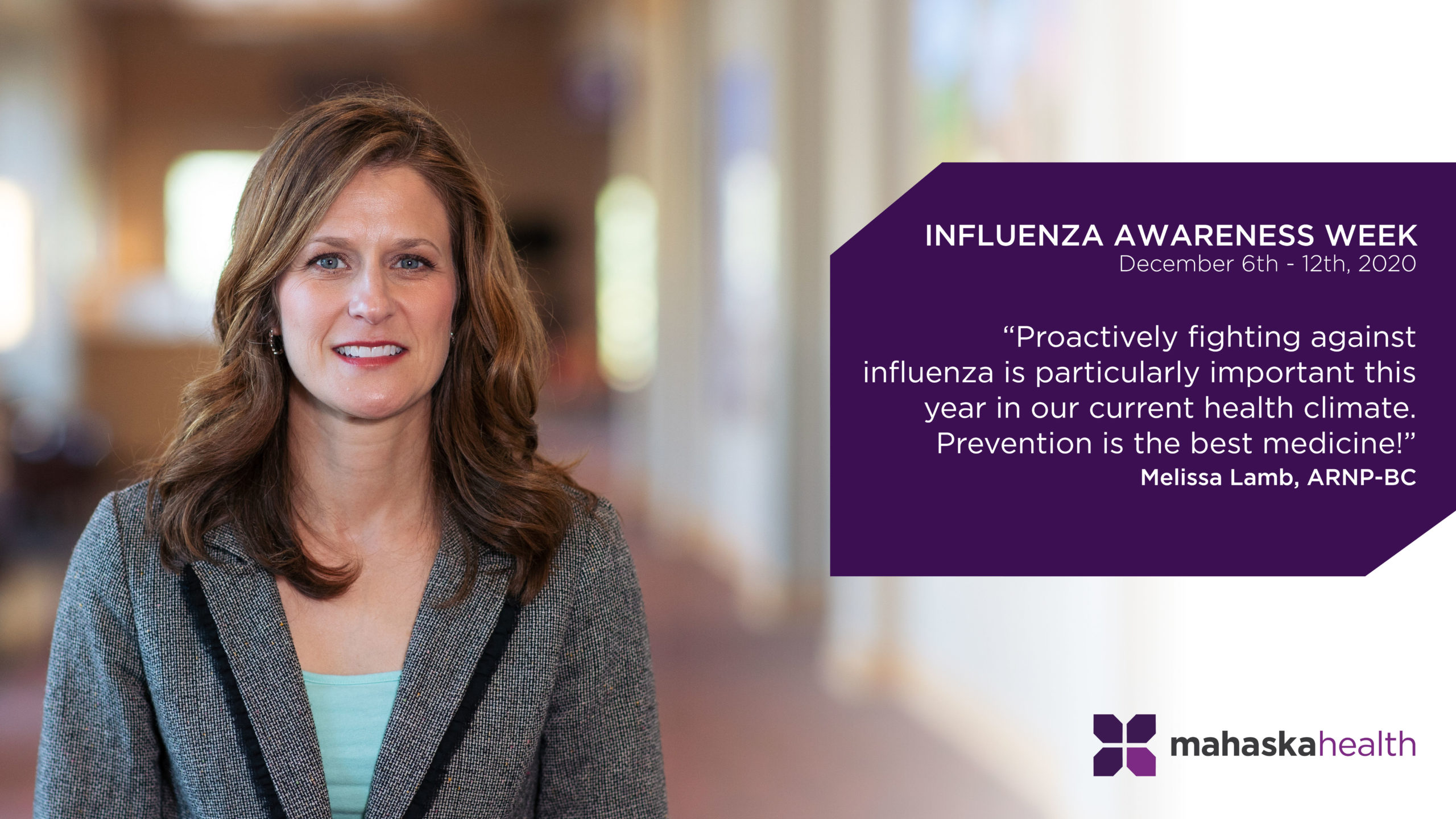 This week is Influenza Awareness Week! Influenza is a respiratory illness that presents itself in a variety of ways, including fever, cough, sore throat, nasal congestion, muscle and body aches, headaches, fatigue, or gastrointestinal symptoms. While this illness is very contagious, there are ways to help prevent from contracting the virus. Mahaska Health's Allergy, Immunology, and Pulmonology Clinic is fortunate to have Melissa Lamb, ARNP-BC, on the team. Recently, Melissa was interviewed for ways individuals can proactively fight against influenza.
3 Things You Can Do to Proactively Fight Against Influenza:
Wash your hands frequently.
Germs live on surfaces like door handles, handrails, tables, toys, computer keyboards, and all other surfaces. When we touch these surfaces and germs then move to our hands, we have the potential to then transfer those same germs to our face, food, or other avenues that can make us sick. By practicing good hand hygiene, we can help prevent influenza and other illnesses by reducing the number of germs that make their way into our bodies.
Ask your provider for an influenza vaccination.
The benefits of influenza vaccination include preventing influenza, reducing symptoms if you still develop influenza, and reducing the risk of hospitalization and serious illness related to complications from this illness. By getting an influenza vaccination, we can also help protect those around us each day. Melissa Lamb, ARNP-BC, shares, "I recommend influenza vaccination to all my patients that are able to safely receive the vaccination. Fortunately, we do have methods available to treat the illness and many of the complications, but preventing an illness is by far the best strategy!" Mahaska Health still has influenza vaccinations available. So, if you are still in need of a flu shot this year, contact your Primary Care Provider today!
Protect your immune system.
An influenza vaccination is a great way to prevent contracting this illness, but there are other ways to strengthen and protect your immune system, too! Those ways include practicing good hand hygiene, prioritizing good quality sleep, drinking plenty of water, eating a healthy diet, exercising regularly, getting fresh air, eliminating nicotine use, and managing stress wisely.
If you'd like to receive an influenza vaccination, we encourage you to contact your Primary Care Provider today by calling 641.672.3360. If you are uninsured or under-insured, but would still like an influenza vaccination, contact Mahaska County Public Health at 641.673.3257 for more information on how you can receive a vaccination. Mahaska County Public Health also participates in Vaccines for Children, so if your child (ages six months to eighteen years) needs an influenza vaccination, reach out today!