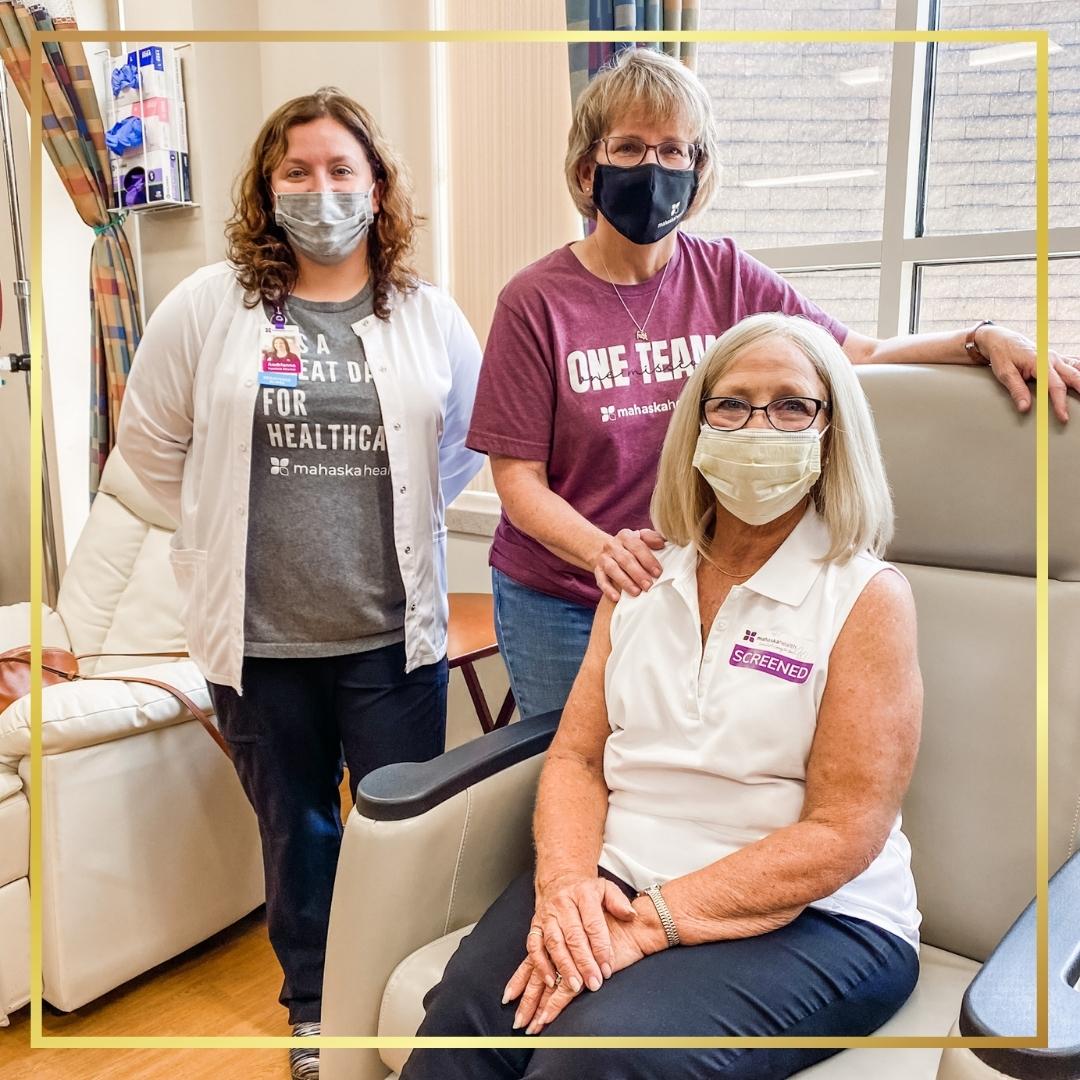 At Mahaska Health, we are continually inspired by our care teams as well as their patients! A cancer diagnosis can mean a long journey for the patient. Donna Fleener, of Oskaloosa, IA, demonstrated courage and hope along her journey with Ovarian cancer.
It takes courage, strength, and an incredible team of medical professionals to battle cancer. When Donna Fleener was diagnosed with ovarian cancer for a second time, she knew that the best medical care would be needed. Donna trusts both Mahaska Health and The Iowa Clinic to take the best care of her during each step of her journey. Every week, Donna visits the Mahaska Health Infusion Center to have her blood drawn and receive a general check-up. During one of her regular visits, the nurses noticed swelling in her leg, so they started to look into what might be causing it. In reviewing Donna's records, the nurses noted that she had a history of blood clots. What may have been overlooked, was caught and attended to by the caring nurses in the Infusion Center. Donna said, "The team at Mahaska Health were very careful to not send me home with a problem like a blood clot." After performing an ultrasound and double checking that there was no blood clot, Donna was able to go home.
In the following weeks, Donna became weaker and she knew that she needed to reach out to her primary care provider to see what needed to be done. After reviewing her blood work, her provider determined that she needed a blood transfusion as soon as possible. Unable to accommodate the immediacy in which she needed the transfusion, The Iowa Clinic suggested that Donna find a place nearby her home that she could receive her transfusion. Donna knew exactly the place she could trust and where she already felt comfortable; Mahaska Health Infusion Center, and Donna received a blood transfusion immediately.
"They were on the ball. They were just professional and so sweet and talkative. They were talking to me like they were my best friends." shared Donna.
At Mahaska Health, our patients come first! Collaborating with other facilities and providers to develop the best and most appropriate treatment plan for each patient is one of the ways we offer our patients the highest level of care.
Donna's familiarity and comfort with Mahaska Health stems from the great care she receives. In addition, Donna's mother was a nurse at Mahaska Health for 37 years! She recalls visiting her mother in the hospital during shifts. Donna and her family are thankful for the years of service that Mahaska Health has provided for the community!
Thank you Donna for sharing your experiences with us! Thank you to our Cancer Care & Infusion Center Nurses and providers, and all our care teams for putting people first every day.

Our Team is dedicated to caring for you – when you need it most. Our Infusion Center Team offers leading-edge for cancer care, blood disorders, and outpatient infusion therapy services with personalized, compassionate care right here close to home.