July 7th, 2023
OSKALOOSA, IA.
Mahaska Health is thrilled to commemorate a decade of outstanding care and service provided by the Mahaska Health Durable Medical Equipment (DME) team. For the past 10 years, this dedicated team has been an invaluable resource in our community, offering essential sleep, mobility, and stability equipment that improves the health and quality of life for numerous patients.
Durable Medical Equipment plays a crucial role in both the healing process after injury or surgery and the long-term aid to enhance overall well-being. The Mahaska Health DME team works closely with patients, medical providers, and insurance companies to ensure each patient receives the necessary equipment and supplies. By offering product warranties, on-call availability, and free delivery and replacement supplies, the team goes above and beyond to provide exceptional care.
"Over the years, this team has been honored to serve so many patients. Our team is dedicated to getting our patients, the care they need, close to home." shared Gwen Bridgeman, Director of Cardiopulmonary at Mahaska Health.
The Mahaska Health DME team specializes in finding tailored solutions for wound care, sleep needs, respiratory care, mobility aids, compression needs, and more. The expert team takes the time to understand each patient's unique requirements and lifestyle to ensure the best equipment needs. Their expertise and compassion have consistently exceeded expectations, delivered exceptional care, and enhanced the lives of many patients in our community.
Join Mahaska Health in celebrating the 10th anniversary of the Durable Medical Equipment (DME) Team. The unwavering commitment of this team has had a significant impact on the community, providing essential care, close to home. Their dedication and expertise continue to make a positive difference in the lives of patients, offering improved health and quality of life.
For more information about the Mahaska Health Durable Medical Equipment (DME) Team and the services they provide, please visit mahaskahealth.org/dme or call 641.672.3289 to speak to a DME Specialist.
Pictured, Mahaska Health DME team, (L-R) Jennifer Molyneux, Gwen Bridgeman, Jodi Wilcox, Durable Medical Equipment Coordinator, Deb Allman, Shirley Goemaat, RN.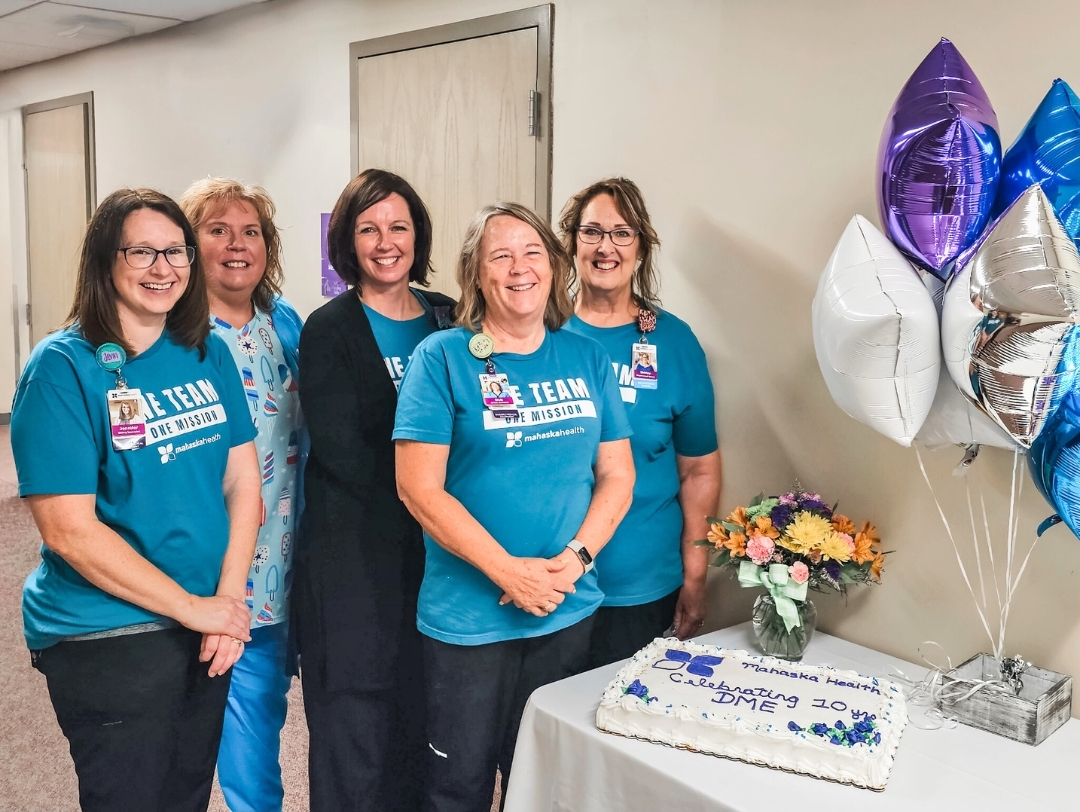 About Mahaska Health:
Mahaska Health is committed to providing compassionate, patient-centered care, state-of-the-art facilities, and outstanding healthcare to Oskaloosa, surrounding communities, and the southeast Iowa region. With a caring and compassionate team of professionals, Mahaska Health is a physician-led hospital dedicated to the health and well-being of the communities we serve with kindness and empathy.