August 4, 2023
OSKALOOSA, IA– Yesterday, Governor Kim Reynolds and the Iowa Department of Health and Human Services announced the awardees of Iowa's Centers of Excellence Program grant totaling more than $2.2 million in funding to support and improve health care delivery in rural Iowa.
Centers of Excellence increase access to specialized multi-disciplinary care and are devoted to tackling the major health needs and disparities confronting rural Iowans. The awarded funds will help regional and local health systems build and enhance systems to ensure rural Iowans have the same access to specialized care as those living in metro areas.
"We are so excited to receive this Centers of Excellence grant," said Executive Director of Specialty Clinics, Amy Fernandez, at Mahaska Health. "As a physician and nurse-led hospital, Mahaska Health has successfully expanded access to high-quality, specialized healthcare by establishing regional networks of medical expertise."
Mahaska Health is the first Iowa Critical Access Hospital to implement four designated Centers of Excellence. Centers of Excellence increase access to multi-disciplinary care. Funding awarded to Mahaska Health will expand innovative care models specializing in specific areas of medicine by offering a variety of services and treatments and creating regional access to specialty care.
"Our mission is to deliver the highest quality of personalized care and treatment for our patients and our communities.  We offer over 75 medical specialties here at Mahaska Health," shared Dr. Daniel Kollmorgen, Mahaska Health Oncology Medical Director. "Centers of Excellence serve as coordinated systems of care that provide specialty services to meet the health care needs across southeast Iowa."
"Mahaska Health has demonstrated that this innovative Centers of Excellence program is an ideal solution for sustaining high-quality care." shared Dr. Timothy Breon, Mahaska Health Chief Medical Officer. "With this project, we will enhance local partnerships and broaden our services in maternal care and obstetrics, cardiology, general surgery, and surgical and medical oncology."
In a press release issued by the Governor's office yesterday, "The Centers of Excellence grants not only support health care providers in improving access to specialty care in rural communities, but sustaining it long term," stated Governor Reynolds. "I'm thrilled that this program will help three more regional health systems address the specific needs of their surrounding communities, and I'm committed to growing legislative support for these efforts."
The Centers of Excellence grant at Mahaska Health will be led by the skill and dedication of our care teams and our medical directors: Dr. Trish Millner, OB and Birthing Center Medical Director, Dr. Daniel Kollmorgen, Oncology Medical Director, Dr. John Pargulski, Cardiology Medical Director, Dr. Timothy Breon, Chief Medical Officer, and Surgery Medical Director, Dr. Matthew Gritters, Emergency Services Medical Director, Dr. Shawn Richmond, Primary Care Medical Director, Andrea Hagist, Chief Nursing Officer, Amy Fernandez, Executive Director of Specialty Clinics; and our new OB-GYN physicians Dr. Taylar Swartz-Summers and Dr. Garth Summers.
Iowa was recently ranked second in the nation among all states for the best health systems based on cost, access, and outcomes.  Funding for this grant award includes $250,000 per year for three years to Mahaska Health and may be used for activities such as, but not limited to:
Increasing specialty care providers
Redesigning or remodeling physical space to accommodate expanding services
Investments in necessary technology
Expanding regional partnerships to deliver coordinated care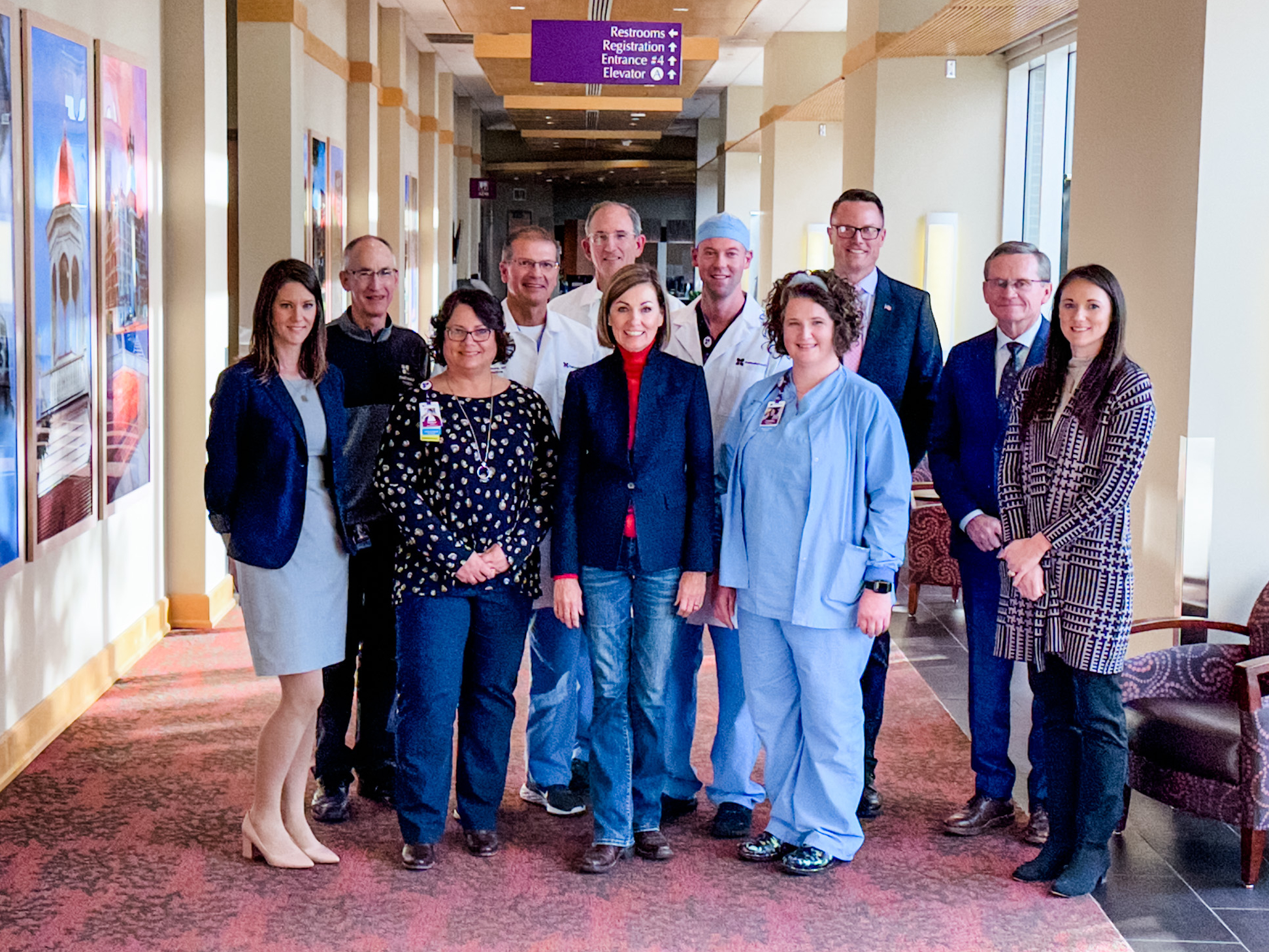 About Mahaska Health:
Mahaska Health is committed to providing compassionate, patient-centered care, state-of-the-art facilities, and outstanding healthcare to Oskaloosa, surrounding communities, and the southeast Iowa region. With a caring and compassionate team of professionals, Mahaska Health is a physician-led hospital dedicated to the health and well-being of the communities we serve with kindness and empathy.