September 26th, 2023
OSKALOOSA, IA.
Mahaska Health's Fall Health Fair brought the community together for an evening of wellness, expertise, and fun on Thursday, September 21, 2023, at Gateway Church in Oskaloosa.
The health fair provided a valuable opportunity for the community to engage with the Mahaska Health team, known for their expert, compassionate care. "Emphasizing the importance of proactive healthcare is extremely important." shared Dr. Matthew Gritters, Mahaska Health Emergency Medicine Medical Director. "This event was an exceptional opportunity for community members to access free preventative screenings and the ability to ask questions with doctors, providers and nurses from various specialties." The Fall Health Fair featured complimentary screenings, including cholesterol and blood pressure checks, to help detect underlying health concerns. Attendees also benefited from sleep assessments and the opportunity to receive a free flu shot, helping them stay healthy this upcoming season.
In addition to health services, the fair featured family-friendly activities and food, creating a fun and informative atmosphere. Importantly the Fall Health Fair, which was a community-focused event, was free and open to all, reinforcing Mahaska Health's dedication to the well-being of our local communities. Mahaska Health offers over 75 medical specialties, including cardiology, sports medicine, orthopaedics, cancer care, general surgery, OB/GYN, maternity care, and family medicine. Attendees had a unique opportunity to receive health guidance from board-certified physicians, specialists, and providers, representing Mahaska Health's commitment to expert care, health education and prevention. Many of the new Mahaska Health providers were present at the event and excited to connect and serve. It was a great welcome and introduction to our wonderful community. For more information about Mahaska Health and our commitment to health education and prevention, or to schedule an appointment with a Mahaska Health specialist, please call 641-672-3360.
Mahaska Health new physicians pictured from left to right: Dr. Matthew Gritters, Emergency Medical Director; Dr. Holly Van de Voort, Pediatrician; Dr. Taylar Swartz Summers, OB/GYN Specialist; Dr. Garth Summers, OB/GYN Specialist; Dr. Todd Treimer, Family Medicine; and Dr. John Pargulski, Cardiologist.
Photo courtesy Ken Allsup, Osky News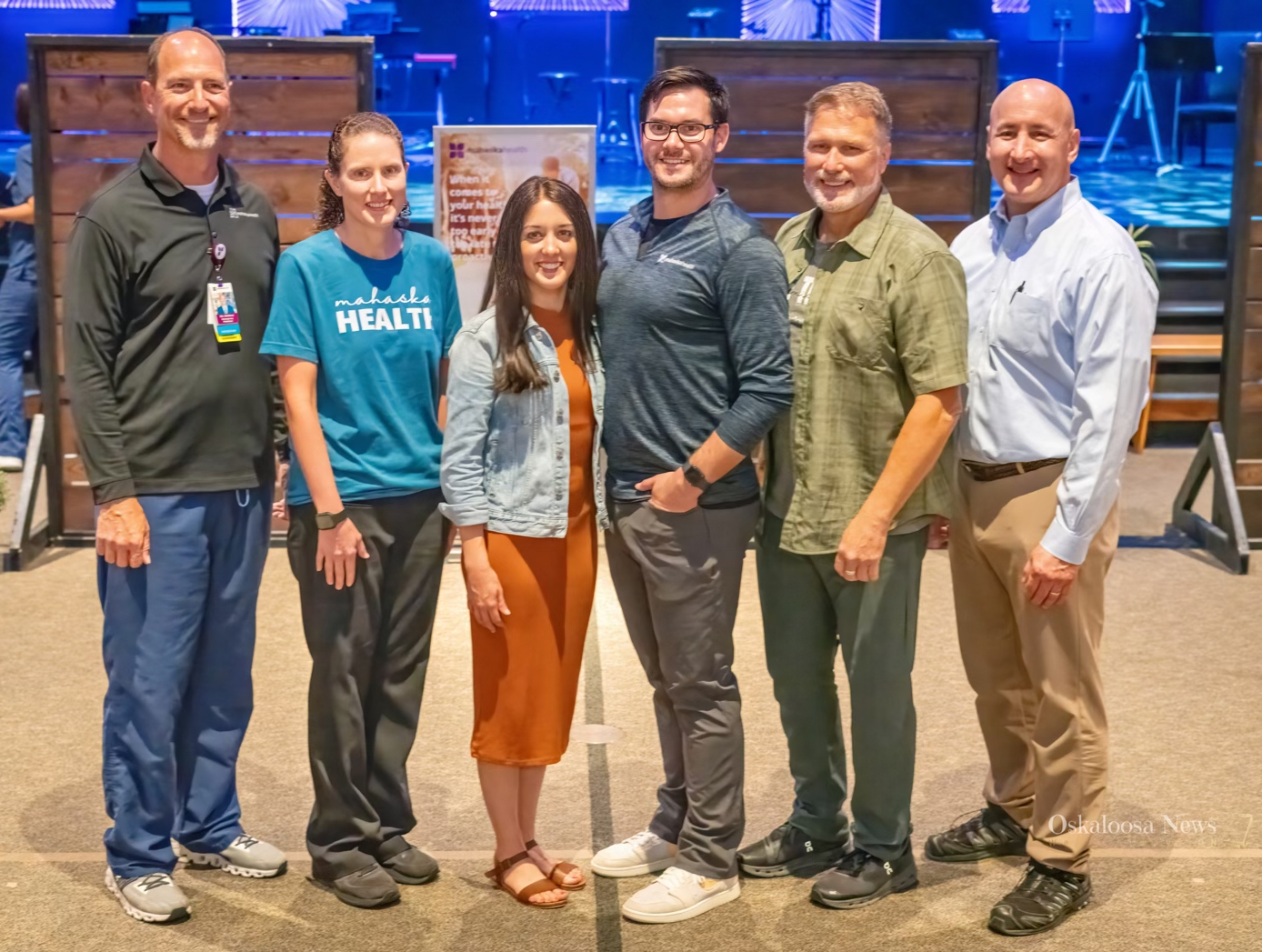 About Mahaska Health:
Mahaska Health is committed to providing compassionate, patient-centered care, state-of-the-art facilities, and outstanding healthcare to Oskaloosa, surrounding communities, and the southeast Iowa region. With a caring and compassionate team of professionals, Mahaska Health is a physician-led hospital dedicated to the health and well-being of the communities we serve with kindness and empathy.