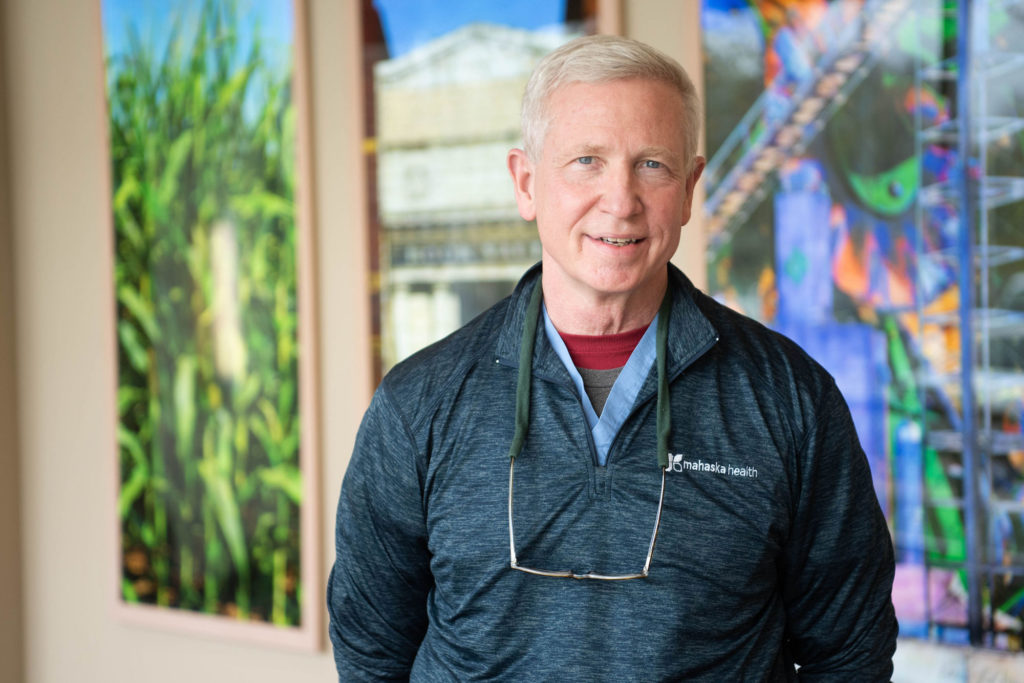 Jon Gehrke, M.D. joined the Mahaska Health orthopaedics care team 2019. Dr. Gehrke is Board Certified and completed three Fellowships in sports medicine, general orthopaedics and foot & ankle surgery. He practiced at Des Moines Orthopaedic Surgeons (DMOS) for 23 years prior to joining Mahaska Health, and has authored numerous articles for national publications and served on several boards, including the Academic Orthopaedic Faculty of both the University of Missouri and Ohio State University.
Dr. Gehrke specializes in general orthopaedics, sports medicine, ACL, meniscus and knee conditions, hip and knee replacements, foot and ankle surgery, as well as rotator cuff repair and fracture fixation. He is also an expert in Regenerative Medicine procedures and the use of Ortho Biologics that includes the use of Platelet Rich Plasma (PRP) injections for non-operative orthopaedic conditions.
Gehrke lives in Oskaloosa with his wife Laurie and enjoys volunteering, serving as the Sports Medicine Physician for William Penn University and board member for the YMCA.
Specialty
Orthopaedics
Board Status
American Board of Orthopaedic Surgery
American Board of Orthopaedic Surgery, Sports Medicine
Professional Associations
Iowa Medical Society
Iowa Orthopaedic Society
American Academy of Orthopaedic Surgeons
American Orthopaedic Society for Sports Medicine
American Orthopaedic Foot and Ankle Society
Education
University of Missouri-Columbia, Columbia, MO
Residency
Orthopaedics, University of Missouri Health Sciences Center, Columbia, MO
Emergency Medicine, Truman Medical Center, Kansas City, MO
Fellowships
Sports Medicine Fellowship, Ohio State University, Columbus, OH
A.O. Fellowship, Harborview Hospital, Seattle, WA
Mayo Clinic Fellowship, Mayo Clinic, Scottsdale, AZ
Location
Mahaska Health, Oskaloosa, IA