October 5th, 2023
OSKALOOSA, IA. Mahaska Health is proud to host their annual Women's Health Night at the Gateway church in Oskaloosa.
Join Mahaska Health experts for Women's Health Night on October 17th from 5:30 PM to 8 PM for a night of education and community. Mahaska Health is excited to feature experts from our 75+ medical specialties, including women's health, mammography, medical imaging, general surgery, surgical oncology, cancer care, ob-gyn, and family medicine. In addition to the discussions, we are pleased to offer complimentary cholesterol and blood sugar checks for all our guests, emphasizing our commitment to proactive health monitoring.
Following the educational sessions, we invite you to enjoy an evening of fellowship and food and an opportunity to hear Mahaska Health specialists discuss latest advances in Womens Health. The panel will include Dr. Tim Breon, Mahaska Health Chief Medical Officer and General Surgeon, Dr. Bradley Hiatt, Board Certified Fellowship-Trained Oncology and Hematology Specialist, Dr. Taylar Swartz Summers, OB/GYN Physician, Dr. Garth Summers, OB/GYN Physician, Dr. Matthew Gritters, Emergency Services Medical Director, Dr. Jesse Van Maanen, Board Certified General Surgeon, and Anna Throckmorton ARNP, Family Medicine Provider.
Our panel will include insights from two of our newest OB/GYN specialists, Dr. Taylar Swartz Summers and Dr. Garth Summers. Their expertise and new OB/GYN clinic expand Mahaska Health's 75+ medical specialties and we are proud to offer the largest OB and Women's Health Team in the region, with comprehensive, specialized care for every age and stage of life.
To learn more about Women's Health Night, pre-registration, or limited-edition t-shirt purchases to support the 3D Mammography fund, visit mahaskahealth.org/womens-health-night.
For more information about Mahaska Health and our commitment to health education and prevention, or to schedule an appointment with a Mahaska Health specialist, please call 641-672-3360.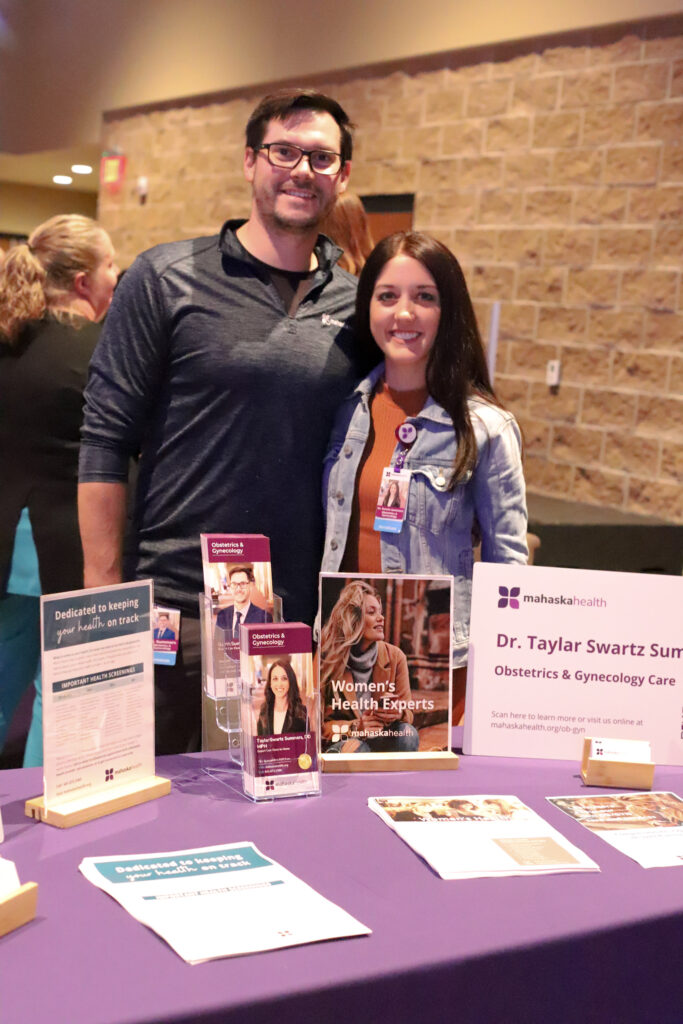 Photo: Dr Garth Summers, OB/GYN Physician, and Dr. Taylar Swartz Summers, OB/GYN Physician, at the Mahaska Health Community Health Fair September 2023.
Photo Credit: Sarah Hoy Photography.
About Mahaska Health:
Mahaska Health is committed to providing compassionate, patient-centered care, state-of-the-art facilities, and outstanding healthcare to Oskaloosa, surrounding communities, and the southeast Iowa region. With a caring and compassionate team of professionals, Mahaska Health is a physician-led hospital dedicated to the health and well-being of the communities we serve with kindness and empathy.